On entering the site you will find our Reception on the right hand side. The lodges are beyond. There are 6 lodges in total each with 3 bedrooms. Each bedroom has its own en suite bathroom. Within each lodge, there are 2 en suites with double showers and 1 en suite with a shower/bath. Each lodge is accessed up a staircase as they are treehouses, or houses on stilts. Lodge 1 is semi disabled, with shallower steps and deeper treads, also with a landing half way up.
We look forward to welcoming you, If you have any queries or require any assistance please phone 01439 788991 or out of hours please call Rob on 07935 911911 or email us on info@studfordluxurylodges.com
Pre-Arrival
The nearest Main Road is The A170 from Thirsk up Sutton Bank towards Scarborough, the right hand turning is for Ampleforth, Coxwold and Wass, take the road known as 'High Street' towards Malton, you will pass 'Studford Farm' on your right, keep going past there and we are on your right hand side about 800 yards past Studford Farm.
The nearest Railway Station is at Thirsk, about 11 miles away.
The nearest Bus Service is at Helmsley.
Ampleforth is your nearest village. The most direct route is via a public footpath which is alongside the wood where the reception is.
Car Parking On Arrival
The driveway to the lodges is tarmac, during the daily office hours Monday to Friday the security barrier should be up, but out of hours and weekends, the barrier will be down, for security reasons. On checking in, you will be given the gate number combination. You will be asked to read and sign out Hot Tub Rules. The Reception has disabled access and has a tiled floor. We have a disabled toilet there too.
The Lodges
You will then be shown to your lodge, where we will show you how everything works. It is to be noted that each lodge has between 9 and 11 steps. The depth of each step is 225mm. The height of each step is 200mm. We will then leave you with your sets of keys. All the keys fit every lock within each lodge. You will be advised to take a key to bed with you on each night in case of fire, then you can exit the lodge through each bedroom external door without having to go through any other rooms.
The lodge is all on one level. It should be noted that entrance hall and lounge/dining/kitchen and bedroom hallway all have wooden oak flooring. Each bedroom has carpet flooring. Each bathroom and the utility room have tiled flooring.
The car park to each lodge has an LED sensor security light to lighten the area in hours of darkness. Also, there is a sensor at the start of the footpath, to light the footpath to each lodge in hours of darkness. There are also sensor lights to each lodge.
If you require help with anything, you will be supplied with telephone numbers of our staff.
All doors have 3 foot doorways for disabled access.
If you need help with your luggage please ask.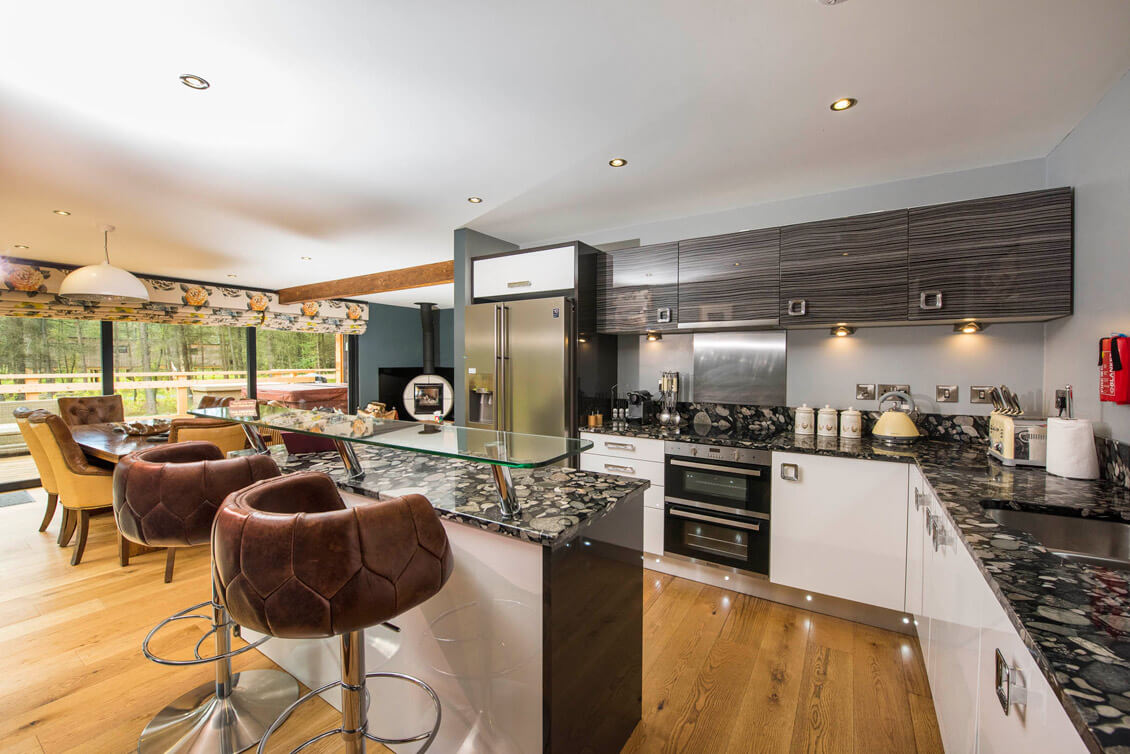 Kitchen / Dining / Lounge Area
The kitchen is fitted with a Double Oven, A Combination Microwave Oven, a Ceramic Hob for up to 4 pans, a full sized dishwasher, an American Fridge Freezer with Ice and Chilled Water Facility, a Dedicated Wine Fridge. Also, we supply a Nespresso Machine with 6 Complimentary pods.
We supply a Welcome Hamper to get you going but it should be noted that this is a self-catering holiday. We put a small amount of 'Yorkshire Tea bags' in each lodge with coffee and sugar sachets. You will receive a small carton of milk. We put a small amount of dishwasher tablets under the sink, along with some spare bin liners. We supply 2 tea towels and a dish cloth along with some washing up liquid. We supply a full set of pans, baking trays, a kitchen aid, plates, side plates, bowls, cutlery, glasses, and plastic glasses for outside. We supply an electric Barbeque. We do not allow customers to bring their own barbeques as the lodge are made of wood and we are situated in a wood.
The Dining Room Table has seating for 6 people. The Lounge area has seating for 5 people. The last person should use the comfy leather dining room chair.
The lounge has a 60" LED Smart Samsung TV, a Sony Playstation4, Sky Box with optional Sky Card for the Movie and Sports Package. A Roberts Music Player with Ipod Docking Station and Sonos Music Player. There are also Board Games.
2 Sliding doors give you access to outside where the hot tub is. On The Decking is your Hot Tub. The Bramblecrest Furniture consists of a Corner Sofa with low coffee table and 2 loungers. The cushions are in the Bramblecrest outdoor cushion box. The cushions for the lounger are in the Sauna entrance. On the decking you will find the electric barbecue, next to it, within the decking is a secret access panel where the electric is. Always replace the secret panel once the barbecue is plugged in. For Smokers we have a stainless steel cigarette disposal unit.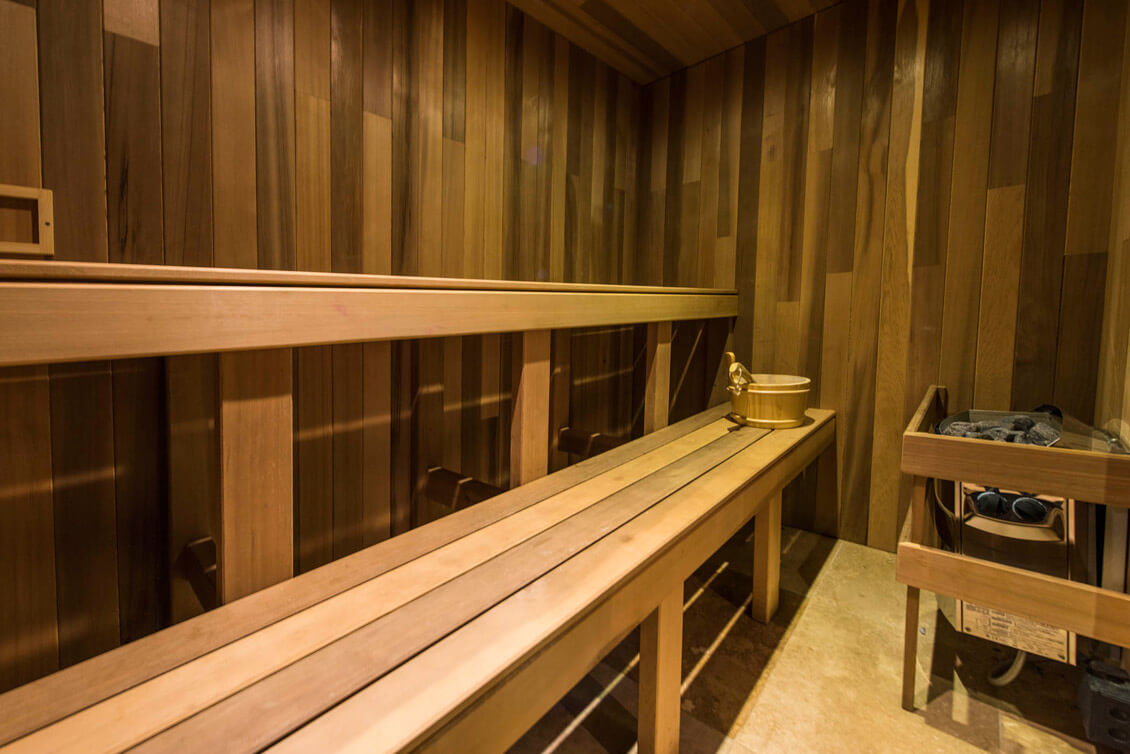 Sauna
Each Lodge has its own Sauna, The main power socket for the sauna is in the small hallway externally to the sauna itself. You will be shown by a member of staff how to use and operate the sauna safely. The Sauna operates on a timer, it will go on for up to 4 hours. But if you are finished with it, we urge you to turn it off manually in the interests of the environment.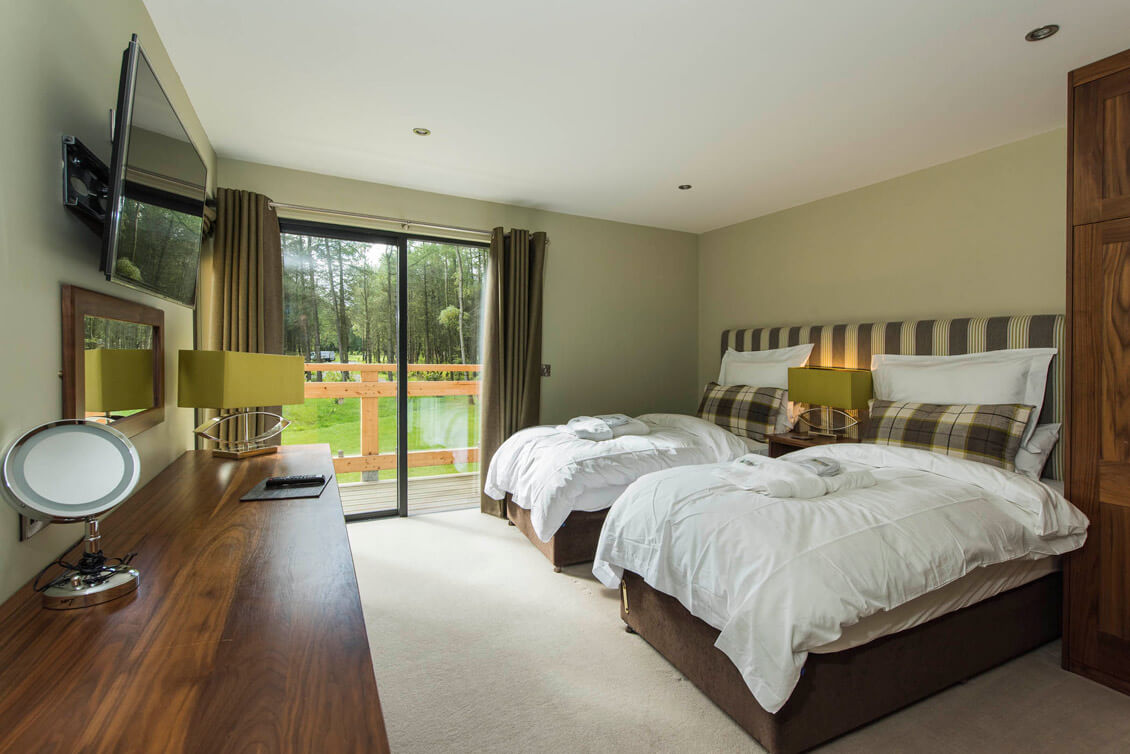 Bedrooms/Bathrooms
All beds are Super-king size doubles which can also be split to create 2 single beds. The height from the floor to the top of the mattress is 24.5 inches or 620mm.
The shower trays are 40mm up from the bathroom floor.
Each bed has a bedside cabinet with bed side lamp.
Each bedroom will be supplied with 2 hand towels, 2 Bath Sheets, and 2 Face Flannels, 2 Bath Robes. These must be left and not taken home. A pair of Studford Disposable slippers will be supplied which you can take home.
In each bathroom are some 'White Company' Toiletries. This consists of a 50ml Bath & Shower Gel, a 50ml Hand & Body Lotion, a 50ml Shampoo & Conditioner, a 50g Luxury Soap Bar, a Vanity Kit and Shower Cap.
A hair dryer will be in the top drawer of the bedrooms drawers. Also, in case of power cut, we supply a wind up torch.
The height of the toilet seat is 420mm. The height of the sink unit on which the stone sinks sit on is 820mm. The height of each stone sink varies.
Utility Room
In each Utility room, you will find a washing machine and a dryer. We have a hoover, an iron, an ironing board, a clothes horse, a fire extinguisher, some outdoor games such as badminton and boules.
Fire Action Plan
Within the utility room is our Site Fire Action Plan. There is a Fire Extinguisher also there. We have a Fire Blanket in the kitchen on the wall.
Studford Contact Numbers
Office Reception 01439 788991
Accounts Office 01439 788788
Directors
Rob Fawcett mb 07935 911911
Ed Fawcett mb 07817 996585